Discover more from Dasiga
Motorcycles fun and freedom in the Philippines.
The Merry Makina Moto Show 2023
The annual bike bonanza proves the motorcycle movement is alive and well in the Philippines.
So many machines, so little money in the bank...
That was my prevailing thought as I worked my way around last weekend's Makina Moto Show 2023 at the SMX Convention Center. 
It was my first really big event since the pandemic, and decent fun. No vaccination passes. No pesky, single-use balaclavas made of surgical face mask material to test helmets. No social distancing, even though it might have eased the inevitable fart and sweat (fweat?) smell wafting through hordes of people in cramped booths, jostling for helmets and gloves.
By the way, I'm so glad we're over the term "new normal". I hated that phrase. And while things have been normal for a while now, I was glad to see it up close and personal.
Most of the bikes were anything but normal, of course. Normal would be a Honda TMX bolted to a sidecar, its driver charging exorbitant fares inside BF Homes. Normal would be a bunch of Yamaha NMAX scooters, filtering through rush hour traffic like a school of hungry barracuda. 
No, the main focus of the Makina Moto Show 2023 was to feature a bunch of extraordinary two-wheeled machines that promise freedom and ferocity - and throw in some helmets and rider gear for good measure. 
Now I'm no motorcycle savant, but I saw a number of bikes that made my cold heart race. 
The Triumph Scrambler 900 was lean and edgy, with a raised twin exhaust that looked like a double barreled shotgun from the future, aimed at anyone getting too close for comfort. 
The Benelli Leoncino Trail 800 begged to be mounted. Sturdy, elegant, and oh-so-cool in a majestic green paint job. I bet it's a beast on the road. It's definitely a conversation starter, especially if you lead with Benelli's lion icon, discreetly mounted on the front fender. 
The MV Augustas were decidedly cool, sophisticated, and lightweight because of all that carbon fiber - the heaviest thing on these magnificent beasts were the price tags.
A big surprise was the Hunter 350 by Royal Enfield. I didn't think petite would be a word I'd use to describe a Royal Enfield, but here we are. I'm 6'1" and they kinda felt small for my frame. Shame, as they were going for a 15% discount and were the most doable for me, in terms of budget (and by budget, I mean selling my current bike and slapping on a few thousand pesos on top). Alas, the Hunter 350 is scrubbed from my list.  
The Scram 411 was taller; the Meteor 350 fatter, the Interceptor 650 finer, and the continental GT most pogi of all, if you don't mind an aggressive riding position and wearing your arms out simply gunning for a coffee at your local Starbucks. 
Mutt Motorcycles was there too - their bikes are arguably some of the most gorgeous on the market. My first and current bike is Mutt's Fat Sabbath 125. Most people think I'm riding a 500cc behemoth. Until I tell them it's a 125, then they're all smiles and raised eyebrows. I'd say Mutts are both excellent gateway bikes and regular rides for people who want to commute in style. They won't blow your socks off. But they will turn heads.
All the other brands, big and small, East and West, were represented, and I got to gawk at everything. 
However, the one machine that had me at hello was the neo-retro Kawasaki Z650RS. The Japanese titan had a 50th Anniversary edition on display, with a sleek black and red color scheme, punctuated by stunning gold rims. 
It's flat out gorgeous. It has a workhorse engine, analog speedometer and tachometer, an LCD display for fuel, gears, range etc, ABS, and that's about it. An uncomplicated, fire-in-your-bones machine. And from what I've been hearing, the Kawasaki Z650RS, while not the fastest or most tech-laden vehicle, is an almost perfect bike.
I would have bought it right then and there, had I the testicular fortitude to steal the credit card from my wife's bag and willingness to pay for my sins over a 12 month period.
But, it'll have to wait. I'm ready to graduate, but my pockets are still in grade school, if you get my drift. 
All in all, it was a good event. I wish I'd taken more pictures but I was too busy looking at bikes and trying to figure out a payment scheme. To use the words of the Royal Enfield sales guy after I asked him if they accept trade ins, "Kung ganun lang sana" (if only that were possible).
Oh, and to make up for my lack of photographs, here are some shots of the Kawasaki Z650RS in the IG wild. Just stunning.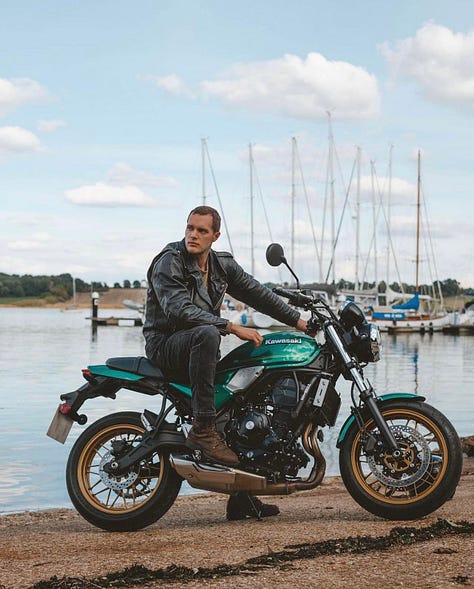 ---
Thanks for signing up. Let me know what you want to hear from the world of bikes. And if you enjoyed this, do me a favor - spread the word? 
Thanks for reading Dasiga! Subscribe for free to receive new posts and support my work.